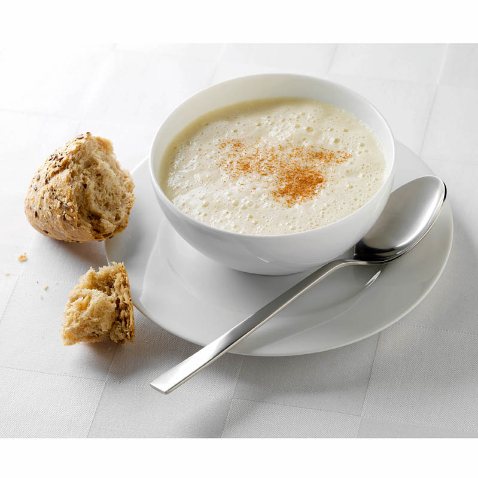 Hotpan: Serves 4 as a starter
INGREDIENTS 
1 celery, approx 300g - washed and cut into small pieces
1 cooking apple - peeled, cored and cut into small pieces
40g butter
1 onion - peeled and cut into fine strips
40g leek - washed and cut into small pieces
9cm stick of cinnamon
800ml vegetable broth
200ml cream
freshly ground salt and pepper
ground cinnamon
METHOD
Melt the butter in the HOTPAN casserole, add the onion and leek and cook on a low heat. 
Add the celery, apple and cinnamon stick and continue cooking for another 2 minutes.
Add the vegetable broth, bring to the boil and allow to simmer lightly on a medium heat for 3 minutes.
Now cover the casserole and wait for steam to appear from around the rim. 
Remove from the heat and place the HOTPAN in the insulating bowl for 30 minutes.
Remove the cinnamon, add the cream, bring to the boil and stir. 
Blend with a handheld mixer and serve with a dust of cinnamon powder.
Season to taste with salt and pepper.
By Ruedi Lehmann