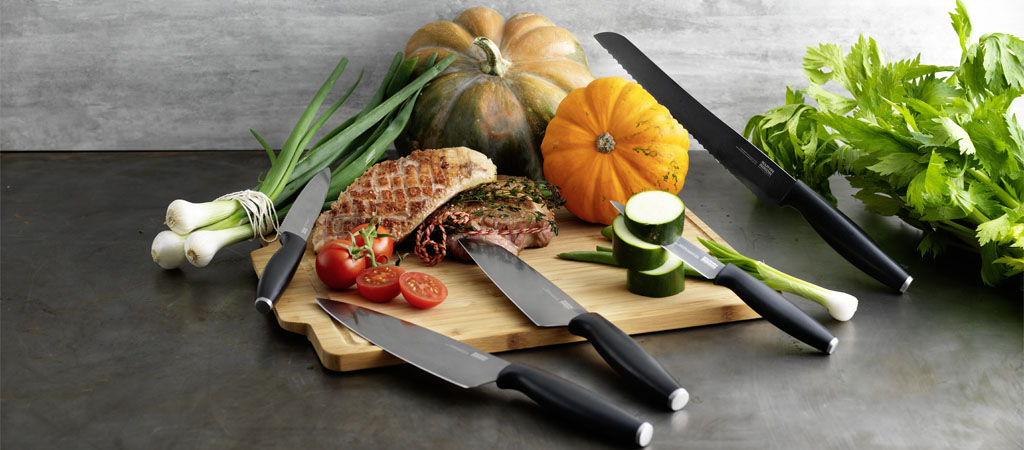 Your kitchen knives are the most important tools in the kitchen, so here's some advice on choosing and caring for your knives.
We have a wide choice, most Kuhn Rikon knives include these key features:-
Ultra sharp Japanese steel blades.
Non-stick coating on the blades to make cutting smoother and easier.
Comfortable ergonomic handles.
Safety sheaths for safe, easy storage.
Be sure to use the right knife for the right job, this will make the task so much easier.
Paring & Utility Knives - These smaller bladed knives are great for preparing fruit and vegetables. The short blade gives you more control when working small items of food. Some of these knives have a serrated edge that is perfect for cutting through the tougher skins of food such as tomatoes, citrus and kiwi fruit.
Chefs & Santoku Knives - The broader, rigid blade with a straight edge is designed for slicing, dicing and chopping larger fruit and vegetables, hard cheese and larger pieces of meat. They are perfectly designed for quickly chopping onions and herbs.
Bread & Sandwich Knives - The serrated blades are perfect for slicing bread and bread rolls. Bread knives can also be used for halving grapefruit or cutting melons.
Carving & Steak Knives - A carving knife typically has a longer blade for slicing joints and poultry. It also has a pointed end for cutting in and around bones.  Steak knives are serrated knives for use at the table; they make it a lot easier to cut steak and chops. 
Knife Sets - Can't decide which knife to buy? We have a wide range of knife sets, these include different blades suitable for different tasks in the kitchen.
Sharpening you knives - To maintain the sharp edge it is important that all kitchen knives are sharpened little and often. We have an easy to use, pull through sharpener.
Cleaning your knives - Knives need to be cleaned safely and thoroughly. This Wave Safe Clean Knife Scrubber attaches to the side of your kitchen sink. Move the knife up and down so that the bristles can clean both sides of the blade.
Storing your knives - Kitchen knives should be safely stored so the blade cannot cause any damage or injury. Many Kuhn Rikon knives are supplied with a sheath for safe storage. We also sell some knife sets in knife blocks and knife blocks are available individually. You can also store your knives safely in a drawer with the Wave Safe Store Knife Organiser.
Be sure to care and store for your kitchen knives and choose the right knife for each task to make food preparation so much easier.