As innovators and leaders in the development of pressure cookers we are proud to be celebrating the 70th anniversary of the DUROMATIC® Pressure Cooker.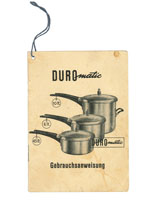 Our Swiss made and Swiss designed DUROMATIC® Pressure Cookers have evolved in to the popular, state of the art pressure cookers we see today. They are easy to use and easy to clean. It's also easy to monitor the pressure and DUROMATIC® Pressure Cookers are quiet – there's no loud hissing while they cook.
DUROMATIC® Pressure Cookers include several safety features that come in to action if the pressure becomes too high. There's the integrated locking system and four safety steam release systems to ensure DUROMATIC® Pressure Cookers are really safe.
You can cook all sorts of food, from stocks and soups, to pot roasts and risottos in a pressure cooker. Food is cooked in about a third of the time compared to conventional cooking and nutrients are retained. You will save time, save money and save energy with the DUROMATIC® Pressure Cooker that we have created over 70 years.
Here's a potted history of our DUROMATIC® Pressure Cooker…
1949 - Jacques Kuhn developed his spring valve and combined bayonet locking device to create an innovative, revolutionary development in pressure cooking.  This important development led to the DUROMATIC® quickly becoming a best seller. 
1959 - the DUROMATIC® Pressure Cooker is very popular throughout Switzerland as cooks realise it reduces cooking times by up to two thirds and cuts energy costs by as much as 70% in Switzerland.
1973 – The DUROMATIC® Pressure Cooker gains popularity in other countries. Safe, fast and easy to use and recognised for Swiss 'Made in Switzerland' quality. The brand becomes established internationally.
1979 – Kuhn Rikon continues to perfect the user-friendly features of the DUROMATIC®. New models are created with cooking times engraved on the lid. The company applies for a patent for an innovative device that protects cooks against hot steam emissions. 
2009 – The DUROMATIC® can be found in nearly every kitchen in Switzerland. To celebrate its 60th anniversary Kuhn Rikon launches a limited edition with a red lid; only 2009 pieces are produced.
2019 – The latest model of DUROMATIC®, the Comfort, is Bluetooth enabled. It can communicate with us via an app, suggesting menus and 'talking' us through the cooking process. This, state of the art, pressure cooker can also interact with specially equipped hobs to control and direct the entire cooking process.
DUROMATIC® Pressure Cookers are still made in Switzerland and there's a wide choice of shapes, sizes and models. Small ones, large ones, deep ones, shallow ones. You'll find the one you need whether you're feeding one or a crowd. Follow this link to watch more.
See our range of DUROMATIC® Pressure Cookers.