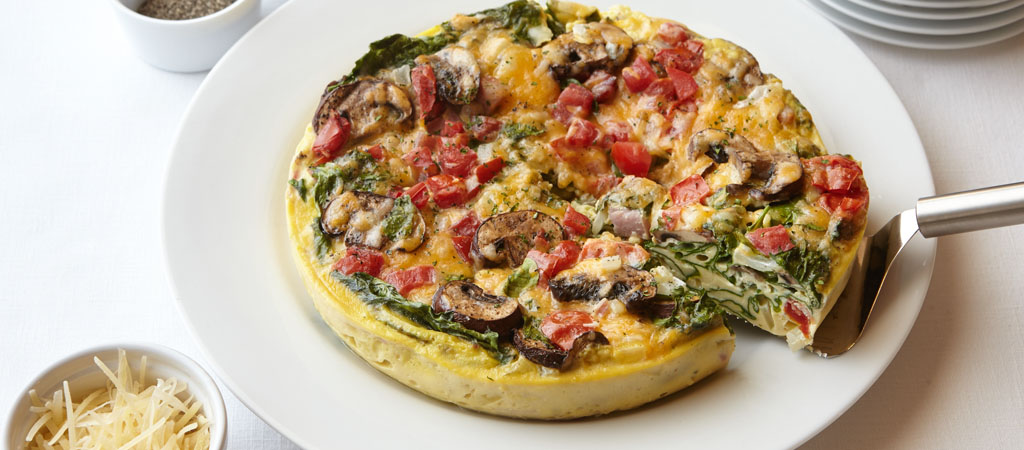 This recipe can be made with or without ham to suit meat and non-meat eaters.
Made in a Duromatic Micro the recipe can be cooked in 6 minutes. Alternatively the frittata can be cooked in a deep frying pan, start cooking on the hob, once it's almost completely set place the pan under the grill to cook the top.
Serves - 4
Ingredients:
8 eggs
100ml milk
160g boiled ham cut in cubes
1 onion peel and cut finely
100g mushrooms sliced
100g spinach, sliced
2 plum tomatoes core and cut up finely
160g cheese such as cheddar or gruyere 
Salt and pepper as required
Method:
1. Stir the eggs and milk in the Duromatic Micro Cooker. Add the rest of the ingredients. Season with salt and pepper. Stir well. Place the lid on the cooker and put it into the microwave.
2. Set the timer for a cooking time of 6 minutes.
3. Take the cooker out of the microwave and release the pressure with the natural method. After 2 to 3 minutes check to see if the pressure is completely gone.
4. When the pressure indicator indicates no more pressure, unlock the cooker and remove the lid.