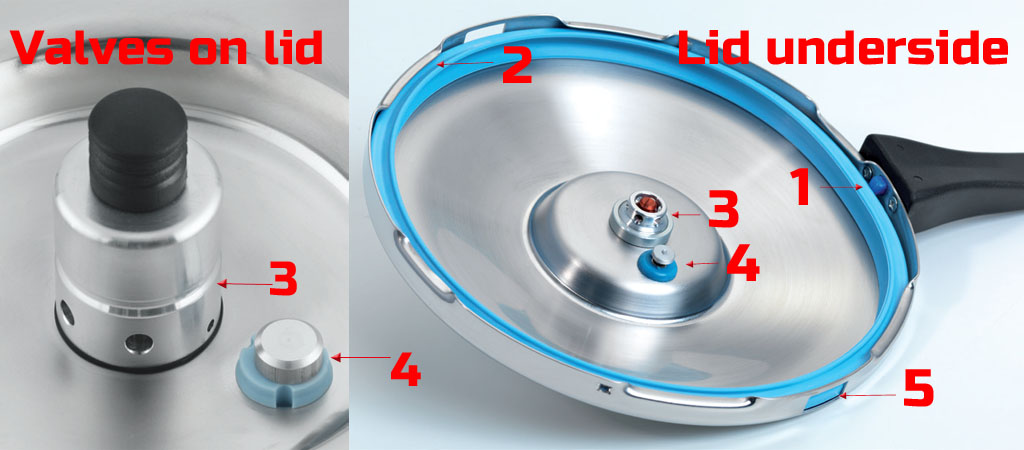 Here's a summary of the Key Features & Safety Features of the Duromatic Pressure Cooker to reassure you about the quality of these Swiss made pressure cookers. They offer innovation, longevity and great safety features - plus they are easy to use.
In 1949 Jacques Kuhn designed a pressure cooker that was quieter, more efficient and safer than previous pressure cookers. That pressure cooker was the forerunner of our extensive range of Duromatic® Pressure Cookers that are still available today.
Kuhn Rikon continues to innovate, design and manufacture pressure cookers in Switzerland. We offer an extensive range of styles, shapes and sizes to suit every home.
The Key Features :-
Efficient – cooks up to two thirds quicker than conventional cooking.
Energy saving – uses up to 70% less energy than conventional cooking.
Healthy – preserves more nutrients and vitamins.
Effective – the Superthermic® sandwich base is made of durable 18/10 stainless steel sandwiching a layer of aluminium to provide a strong, stable base for premium heat conductivity.
Five safety features – for complete peace of mind – see details below.
Guarantee – the body of the pan is guaranteed for 10 years, there's a 2 year guarantee on parts.
Longevity – we offer all spares for all our pressure cookers so that your pressure cooker will perform perfectly for decades.
The Safety Features (as shown in the image above) :-
Safety pin prevents pressure build up when the lid is not fully closed. It will also eject any residual steam when the lid is opened.
Automatic lid lock has a bayonet for perfect closing and to ensure the lid cannot be turned or opened when under pressure.
Main valve ensures that steam automatically escapes at an over pressure of 1.2 bar.
Safety valve is an additional pressure relief valve that automatically discharges steam at an over pressure of 1.5 bar.
Safety window will enable the gasket to automatically push out at an over pressure of 2.4 bar so that excess steam can escape.