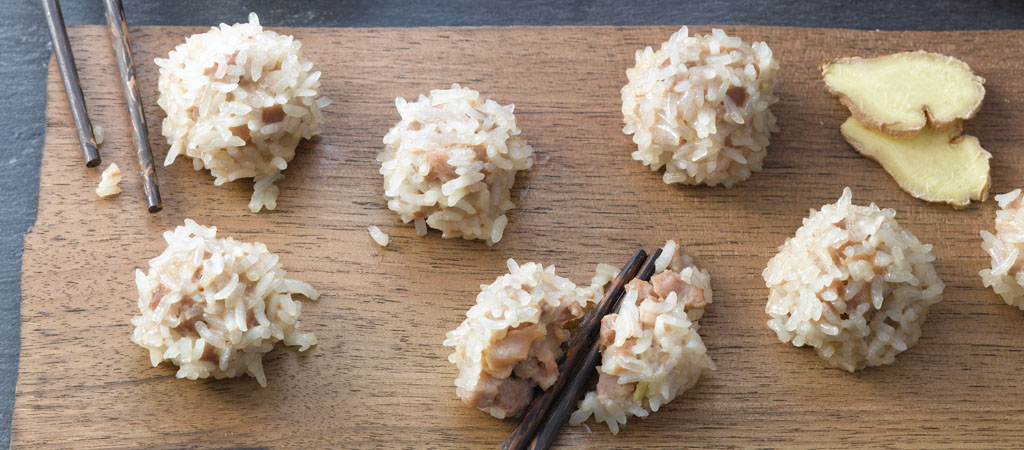 A little extra effort to make but worth it for these tasty Asian bites.
Recipe has been devised for cooking in the Durotherm Hotpan but you can, alternatively, use any steamer.
Serves: 4
Ingredients: 
70g jasmine rice (sticky rice) soak for 6 hours in cold water
220g minced pork shoulder (5 mm)
1 egg white
2tbsp soya sauce
4g ginger fresh, peel and chop finely
10g sugar
1tbsp dry sherry
1tsp sesame oil
Method:
Drain the rice and rinse well with cold water.
Mix the minced pork with the egg white, soya sauce, ginger, sugar, sherry and sesame oil.
Then shape small balls of approx. 20g each (3 per person). Coat with well drained rice. (Do this shortly before steaming in rice, otherwise become discoloured).
Place the balls of rice on the prepared steamer attachment or in a steamer. Top up the DUROTHERM®/HOTPAN® with 1 litre of water, bring to the boil, place steamer attachment on top and cover. Keep the water just under boiling point and steam the balls of rice for approx. 30 minutes.
Serve with oriental fruit chutney.