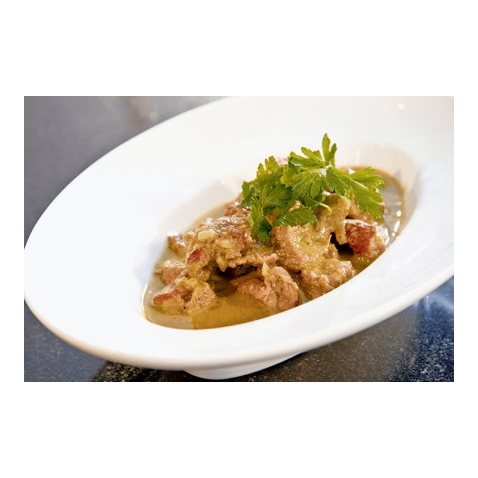 Here's a real yummy Thai curry with beef, quick, easy and delicious
Serves: 4  
Ingredients curry paste
1 stalk lemon grass
1 pce fresh ginger
1 bunch fresh coriander
1 green chilli (or 1 greenish peperoncino)
40 g peanuts, unsalted, shelled weight
2 tbsp oil
1 tbsp coriander, ground
1 tbsp cumin, ground
0.5 tsp cardomon, ground
0.5 tsp cloves, ground
1 tsp nutmeg, ground
15 turns black pepper, freshly ground
1 tsp salt

Other ingredients 
4 shallots
700 g beef, cubed
Salt
Oil for browning
100 ml strong vegetable stock
400 ml coconut milk
3 tbsp lemon juice
1 pinch sugar

Method
For the curry paste - remove the hard leaves from the lemon grass stalk and slice the soft inner core finely. 
Peel the ginger, slice and roughly. 
Remove the coriander leaves from the coarse stems. 
Halve the chilli lengthwise, core and cut into strips. 
Purée all these ingredients, plus the peanuts, into a paste with the oil in the food processor.
Place the paste in a small bowl and mix in all the remaining spices.
Peel the shallots and chop finely. 
Season the pieces of beef with salt. 
Heat some oil on medium heat in a casserole. Brown the meat in 3-4 batches. Place on one side.
Briefly fry the shallots and spicy paste in the oil, add the juices from the meat. 
Return the meat to the pan, mix together well, then pour in the stock and coconut milk.
Leave to simmer, covered, for about 60 minutes - until the meat is tender. Check the meat during the cooking time.
Before serving season the curry to taste with salt, lemon juice as perhaps a little sugar.
Serving
Basmati rice goes well with this.
Tip
If making the curry paste is going to be too time consuming, bought green Thai curry paste is a quick alternative.  
Recipe by Annemarie Wildeisen's KOCHEN