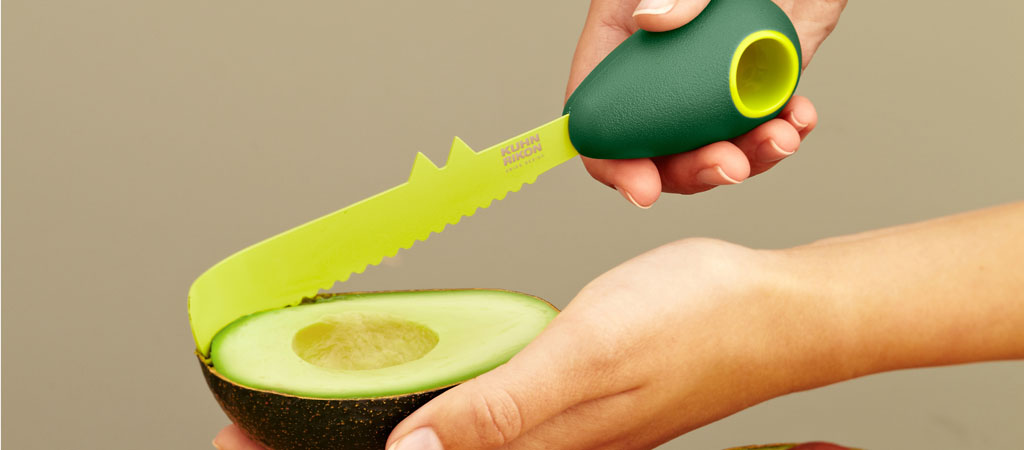 Avocado has been in the news recently for all the wrong reasons – so here's how to avoid an avocado hand injury – the term that's been given to someone who, when cutting an avocado in half, has accidentally cut their hand.
We have the solution to 'avocado hand' – the Kuhn Rikon Avocado knife is easy, efficient and, most importantly, safe to use.  Our Avocado Knife has a flexible, pre-formed blade and corer – this brilliant utensil will split, core and peel avocados with ease. The ergonomic handle, in the shape of the fruit, feels comfortable in your hand and there's a hanging loop for easy storage.  Take a closer look.
Now that we've solved the problem of how to safely prepare an avocado let's take a closer look at this superfood - it's versatile, delicious and nutritious.
Avocados are so versatile, they can be used in all sorts of dishes, from dips to desserts – and they're a popular go to ingredient for brunch. Here's a selection of recipes from Jamie Oliver.
This health giving fruit is packed with goodness.  An avocado contains more potassium than a banana – potassium has a variety of benefits including being good for the heart – which is pretty important!  They also contain 18 of 22 amino acids that we need in our diet as well as omega 3 and omega 6 fatty acids. Avocados are packed with protein which means they are a great alternative to meat and very beneficial in a vegetarian or vegan diet. Avocados also contain various nutrients, including vitamins A, C, E and K and numerous elements such as calcium, magnesium and iron.
As well as providing important health benefits on the inside the avocado is also beneficial for healthy hair and skin.  In short, the avocado is packed with goodness!
So how do you know when an avocado is ripe? You can just gently press the end next to where the stalk was attached to the fruit, if it is slightly soft then it's probably ready to eat.  Another way to check for ripeness is to roll away the end of the stalk, if it's green underneath then it's not yet ripe, if it's black it is over ripe, if it's yellow – it's ready to eat! If it's green, and so not yet ripe, you can speed up the ripening process by placing the avocado in a brown paper bag with a banana, apple or tomato – check the avocado every day for ripeness.
Avocado – a superfood that's really easy to prepare. Use a Kuhn Rikon Avocado Knife and avoid 'avocado hand'.