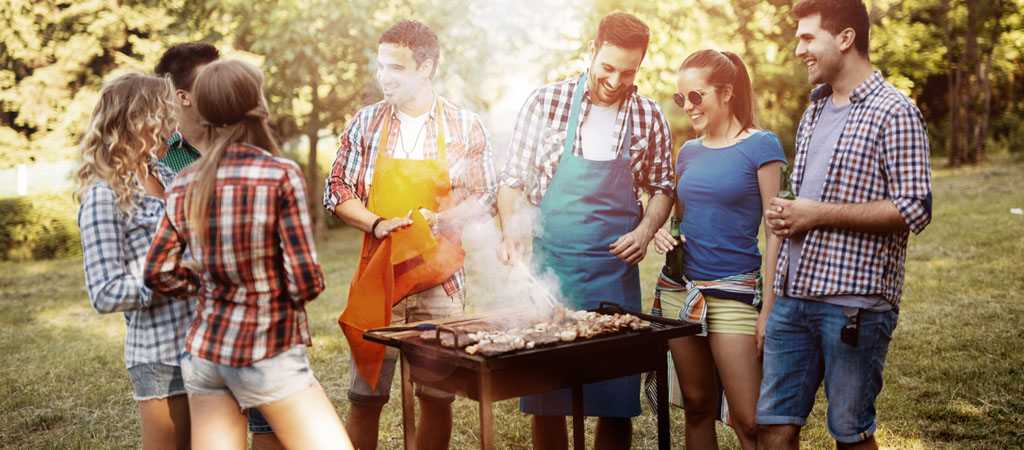 We've pulled together some barbecue hints and tips to help you enjoy a hassle free barbecue. Here, in the UK, we have to make the most of the occasional opportunity to cook outside, so it's a good idea to be ready for that impromptu barbecue.
First things first - make sure your BBQ is clean and ready. Have you got enough gas?  Have you got some charcoal? The traditional lumpwood charcoal is the best; it imparts the best flavour to your food.
Buy in the food – sausages, burgers, chicken, spare ribs, salmon steaks – and store them in the freezer for when the sun shines. Stock up on barbecue sauces, ketchup and relishes – make sure you have the family favourites.  Don't forget the beers and perhaps some rosé wine!
Find your BBQ tools from wherever you stored them away last year – they'll be in a 'safe place' somewhere! It's best to have long handled, flame resistant tools. You'll need a turner, a fork, tongs and a basting brush. A grill brush for cleaning is also useful. The Kuhn Rikon BBQ tools are currently on offer – available individually or in a case for easy storage at home, on picnics or on holiday.
When the weather and time is right for a barbecue be sure to get everything ready in good time. Set up the barbecue, get the meat and fish ready and prepare your salads. You'll find a selection of barbecue recipes on the BBC Good Food site. And here are '50 easy and delicious BBQ side dishes' from Country Living.
You need to plan ahead a bit for the marinade, because it's best to marinate your fish, meat and vegetables before cooking on a barbecue. Meat should be marinated overnight. You'll find a selection of marinade recipes on the Delish.com blog. Get the meat and fish out of the fridge at least 20 minutes before you want to cook it – this will help to ensure that it is properly cooked to the middle and not just seared at the edges.
Make sure you have everything to hand around the barbecue, somewhere to hang or rest the barbecue tools, a flat surface for your dishes – and, an easy one to forget, a clean dish for the cooked food.
If you have a charcoal barbecue be sure to light it in good time. You need the flames to die down and for the coals to be grey/white and glowing before you start cooking.
Most importantly make sure your food is properly cooked before you serve it. Use a sharp knife to cut in to meat to make sure the juices run clear. To check fish, be sure it flakes when you rub a finger on it. Don't forget to rest your meat and fish before eating – that's if you can resist for just a few minutes!
You'll find more barbecue hints and tips in this link to the Guardian and Jamie Oliver's top ten BBQ tips.
Hope that helps to make sure you're ready to enjoy a barbecue just as soon as the sun shines!